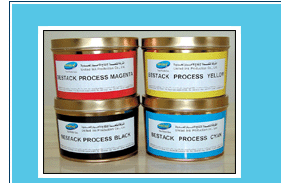 BESTACK
Ink is a new product currently developed by means of high technology chemicals to meet the progressing printing technology and users'
demand toward the higher quality standards. It has advantage of better adaptability for widely ranged water supply processes from motion type to damping water circulation system.
Therefore,
It can respond to available balance of water supply appropriately and printing operators can produce stable and high quality printed matter without difficulty.
BESTACK ink exists in 4 different types,
BESTACK MAX, BESTACK T-5, BESTACK ON (Overnight), BESTACK ARROW
BESTACK MAX BESTACK T-5
Identified as fast drying product, high Identified as a high rub resistance quality
Gloss, good ink stability for long run product, used on matt coated paper,
Jobs and high printing speed. Used for faster selling and stability on the press.
Coated and art paper, T-5 is also suitable for different printing
Substrates and promise high quality
Printing on the art coated paper.
BESTACK MAX is prepared in 3 different BESTACK T-5 is prepared in 3 different
tack values, high, medium and low for the tack values, high, medium and low for
printer choice. the printer choice.
BESTACK ARROW
Identified as high quality offset ink product with improved properties for drying, gloss and stability on the printing press. Bestack Arrow is used for coated and art paper for both the packaging industry and the commercial printing. It has a yield advantage due to it's improved mileage properties.
Overnight Ink
Identified as non skinning ink at the fountain at
temperature of
30'C for more than 15 hours, this type of ink requires no
cleansing for the press after the daily work.
BESTACK ON has excellent ink stability.